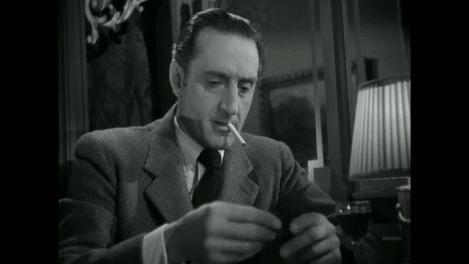 Sherlock Holmes on Screens 2
"Basil. That's my name in those parts." (BLAC)
However the period 1940-1959 covered by this second volume of the series Sherlock Holmes on Screens begins in that momentous year when the world held its breath as the fate of nations lay in the balance.
In noting the handful of minor entries between 1939's Adventures of Sherlock Holmes and the first of the Universal series in 1942, that greater context surely takes precedence. Had history taken a different turn…
In 1940, Vasily Livanov was a five-year-old evacuee from Moscow, a month younger than Robert Downey Snr.
Jeremy Brett was seven and Benedict Cumberbatch's father had just been born. Two older, future Sherlocks had still to make their cinematic mark: Ronald Howard and Peter Cushing. Their future – all our futures – depended on the outcome of the war.
Happily, the storm cleared and a cleaner, better, stronger land lay in the sunshine. This and future volumes celebrate all the future Sherlockian flowers then given freedom to grow.
Howard Ostrom
Howard Ostrom presents our book on
Episode 157: Sherlock Holmes Cyclopædia
Scott Monty & Burt Wolder
In Sherlock Holmes on Screens (1940-1959), it is elementary that Basil Rathbone, Ronald Howard, Alan Napier, Alan Wheatley, John Longden and Andrew Osborn are included. But there are also:
​
Boris Karloff, Errol Flynn, Bud Abbott & Lou Costello, Stan Laurel & Oliver Hardy, the Three Stooges, Bob Hope, Red Skelton,

Alfred Hitchcock, Harpo Marx, Jerry Lewis, Donald O'Connor, Roland Young, Roger Livesey, Andy Clyde, Lester 'Smiley' Burnette, Joe Noble, Henry Stephenson, Milton Berle,

Benny Hill, George Formby, Graham Crowden, Michael Weight, Kenneth Connor, John McLeish, Huntz Hall, Jack Carson, William (Bill) Crane,

Michael Powell, Cecil Parker, Wally Brown, Pat Brady, Jerry Miles, Jack Edwardes & Dickie Arnold, Lynne Overman, Robert Woolsey, José Baviera,

Darry Cowl, Joe Warfield, Michel Marsay, Alfred Pasquali, Jean-Roger Caussimon, Gérard Buhr, Armand Bernard, Theo Lingen, Eric Blore,

Luis G. Barreiro, Ernst Fritz Fürbringer, Wolf Ackva, Karl Lieffen, Jalmari Rinne, Frederik Burgers, Al Debbo, Tadeusz Białoszczyński, Konrad Tom,

Shishir Batabyal, Gerhard Bendz, Darrell Catling, Antonio Espino, Carequinha, Costinha, The Jubalaires, Mel Blanc as Daffy Duck, Porky Pig & Bugs Bunny,

Snooper & Blabber, Goofy, Jiminy Cricket, Popeye, the marionettes John Fadoozle and Sooty, Tamba the chimp and even a waxwork Sherlock Holmes!
​
Almost 90 are wearing a deerstalker, an Inverness cape, smoking a calabash pipe, and looking through a magnifying glass. The question is how many do you know? The answer can be found in the book Sherlock Holmes on Screens (1940-1959).
They are waiting for you
in

Sherlock Holmes on Screens 2

.
In volume 2, you'll find
100+ film and television productions
from... U.S. (60), U.K. (18), France (8), Germany & West Germany (5), Mexico (3), Poland (3), South Africa (1), Sweden (1), India (1), Finland (1), Brazil (1).
Basil Rathbone played the role of Sherlock Holmes
14 times

, including 12 between 1942 and 1946.
"I am glad to have a friend with whom
I can discuss my results."

The Blue Carbuncle
It's fantastic what the digitized newspaper archives offer in possibilities to find out things about the past. And we are only seeing the beginning.
Since the publication of volume 1, we have found around 20 unknown Holmesian films which are presented in detail in volume 2 and in volume 3.
​
Previous books on Sherlockian cinema, signed by Anglo-Saxon authors, have forgotten, for lack of knowledge, many productions made in continental Europe and in the rest of the world.
Thanks to our international team of investigators, we have managed to find some which deserve to appear in the filmography of the British detective.